Ingenes is the Assisted Reproduction Institute leader in Latin America, thanks to the fact that it has the highest rate of success cases, more than 50,000 babies born 👶 , and it recently arrived in the States, to show itself not as another option within the American market but as the best alternative to offer this type of treatments in the country, as it guarantees quality with more accessible prices 👌
Our treatments
The treatments offered by Ingenes are low and high complexity, ranging from artificial inseminations to in vitro fertilizations, it also offers multicycle in vitro fertilization programs, which allows patients to increase their chances of having their baby at home, thanks to the number of attempts.
The main purpose of multicycle programs is helping you economically, as well as making sure that you have the least emotional exhaustion as possible, which can happen with treatments like these. With 4 cycles offered, achieving pregnancy is way more likely to happen.
Ingenes offers more affordable costs than any clinic in the US, specially when it comes to high complexity treatments; this is due to the fact that they are divided in two parts, meaning, the road includes two stops:
First, you start in the US (from 8 to 13 days approximately) 📍
Step 1: The first appointment at the Ingenes US branch of your choice, is where the Evaluation Program is carried out to know your case in detail, your medical history and then find out from that first moment which is the best option to have your baby.
Step 2: In the United States branch is where your treatment will begin, and approximately between 8 and 13 days the stimulation and/or your endometrial preparation will take place.
In this step you must mentalize yourself to travel to Mexico, where the magic will happen.
Now, you travel to Mexico (7 days approximately) ✈️
Step 3: Choose the branch in Mexico that you prefer to visit for your treatment. You must be there one day prior to your start date. In this step, the semen sample (whether is from your partner or from a donor) is prepared. The ovarian puncture will be performed as well, meaning, the extraction of your eggs. This will take one day to be completed.
Step 4: In this step, the development of the embryos will happen, and the transfer is carried out. This takes around 3 to 6 days approximately.
This is the moment in which you can take a break: You will have the opportunity to visit the different wonderful landscapes and breathtaking places that Mexico has for you. Remember that we recommend different spots to visit, you can check them out on our website!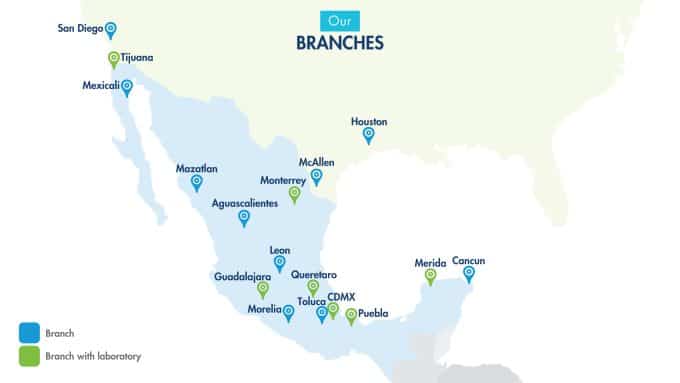 Then, you return to the USA ↩️
Step 5: 10 days or more after the transfer, you must take a pregnancy test, this can be done in the US.
Once you have the results, you should send them to your doctor, and he or she will be the one to give you the great news.
Step 6: Your first gestational consultation takes place here, so that you know more about your baby.
A road without comparison
The great benefits this road offers on your travel to Mexico are: first of all it helps you relax and keep your mind clear 💆‍♀️ by visiting incredible places in Mexico.
Also, this allows us to provide you with cheaper treatments, thanks to our laboratories with the greatest technology and highest quality in Mexico. As a result, the prices are more affordable compared to any clinic in the US.
Some dreams have a long road ahead, but at Ingenes that road is an adventure.
Are you ready to start this journey and have your baby at home? 🤱
Come to Ingenes.