In Vitro Fertilization (IVF) is the union of a woman's egg and a man's sperm, which is performed in a laboratory, and is currently the most effective method of assisted reproduction. Here is a guide to everything you need to know about IVF.
If you are looking to have a baby through assisted reproductive treatment, this guide will help you along the way, whether you are considering IVF treatment or have already started your process. IVF treatment or have already started your process.
IVF beginner level: When to seek help?
According to information from the World Health Organization (WHO), if you are under 35 and have had unprotected sex for 12 months without achieving a pregnancy, or have had miscarriages, it is time to seek out a reproductive specialist who is not only a gynecologist but has a subspecialty in reproductive biology.
If you are over 35 years old, if you have been looking for a baby for 6 months or more without success, it is the ideal time to seek help from a reproductive specialist, who has all the knowledge and experience in the different assisted reproduction treatments that exist, so that you can have your baby.
As you know, when it comes to reproductive health, time is vital.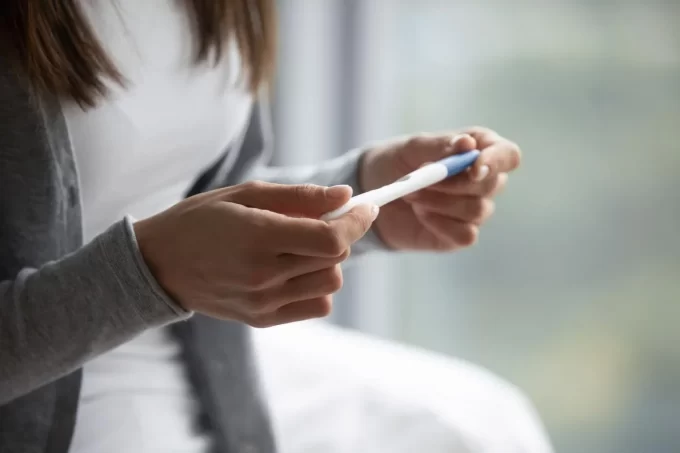 How to find a reproductive specialist?
The first person to turn to when you are not achieving a pregnancy is your family gynecologist, and if you need one, he or she can refer you to a doctor who specializes in assisted reproduction. 
You can also consult the Latin American Network of Assisted Reproduction, a scientific and educational institution that brings together more than 90% of the institutes and centers that perform assisted reproduction techniques in Latin America.
How to prepare for your visit with your reproductive specialist?
Once you have chosen where you want to have your treatment, it is important that you request a complete medical examination of your reproductive health, to verify that your hormone levels, your uterus, your fallopian tubes, your ovaries, and every issue involved in having a baby are in optimal condition. 
If you go to a known donor or your partner, and he is a man, he should also have a complete analysis of his sperm to make sure they are healthy and functioning properly.
At Ingenes, with your Initial Program, you will get a complete assessment of your reproductive health, you will know exactly why you have not yet had your baby and you will get a personalized treatment plan proposal, which gives you the best chance of success.
We know that you are likely to have all kinds of questions when you go to see your specialist, and he or she should answer each and every one of them in a timely manner. Before you go to your appointment, it is important that you list all the questions you have, so that your doctor can help you answer them.
Is IVF an option for me?
In Vitro Fertilization is particularly recommended for people facing reproductive health problems such as those listed below:
Ovulation problems
Blocked fallopian tubes
Endometriosis
Polycystic Ovary Syndrome
Low sperm quality
Advanced maternal age (over 35 years)
Each person is different and requires a treatment tailored to their specific circumstances, so it is of utmost importance that, before undergoing any type of assisted reproduction treatment such as IVF or any other, you go to a specialist doctor who will fully assess your case.
Your reproductive doctors will evaluate your reproductive health to give you an accurate diagnosis and determine if In Vitro fertilization is the treatment that will give you the best chance of becoming a mother.
IVF intermediate level
In the event that you have already been to your specialist doctor, who has given you a diagnosis and found that the best treatment option for you to have your baby is In Vitro fertilization, there are a few things to consider:
Get in the right mindset to know what to expect
In a normal menstrual cycle, a woman produces a single egg, then that egg has to be "captured" by the fallopian tube, then the sperm has to reach and fertilize the egg, and then the embryo has to make its five-day journey to the uterus.
This involves many factors that need to be in optimal conditions in order to have your baby.
During In Vitro Fertilization, your specialists will give you medication, which will help stimulate your ovaries to produce multiple eggs in a single cycle rather than just one, and then extract them through a procedure called egg retrieval so that embryologists in the lab can fertilise them with sperm in a petri dish.
After three to five days, your doctor will transfer the resulting embryo into the uterus, and you will wait about two weeks for it to implant, which, if successful, will result in pregnancy.
Before choosing, consider the success rate, the number of births and the prestige of the laboratory
It's very important to find out what success rates mean, how they can be measured, how many cycles a year the reproduction center you will be attending performs, and how many cycles per year.
In Vitro Fertilization rates may vary depending on the quality of the laboratory, the number of cycles that the reproduction center performs per year, among other factors. It is important that before choosing, you ask for this information directly at the clinic, check their website or their social networks, so that you can be sure that you are in the right place.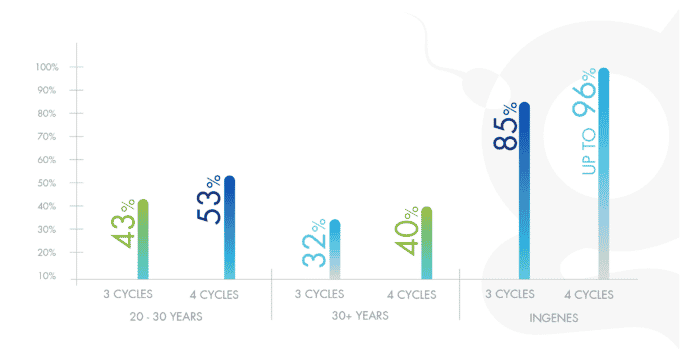 How much will you invest in your dream?
Most people need at least three or four IVF cycles to ensure the best chance of success, but even knowing this, most reproductive centers do not consider the emotional, physical, and financial toll of each cycle.
That's why it's important that, along with the cost, you consider everything that will be included in your treatment at the reproductive center of your choice, beyond your In Vitro fertilization.
Be sure to ask the following questions at your chosen location about what is included in your treatment:
Do you have emotional health sessions?
Is the price for one or several attempts?
Does the cost include ultrasound scans, and procedures such as ICSI - for severe cases of male infertility?
Do you include the Assisted Hatching technique to improve the implantation rate?
Does the center have specialists in different disciplines? Such as biologists, embryologists, andrologists, specialist nurses, etc.
At Ingenes we know that the chances of achieving your dream of becoming a mother in a single attempt and without any additional techniques or resources are very low, which is why you should make sure you have a treatment plan that at least includes all of the above.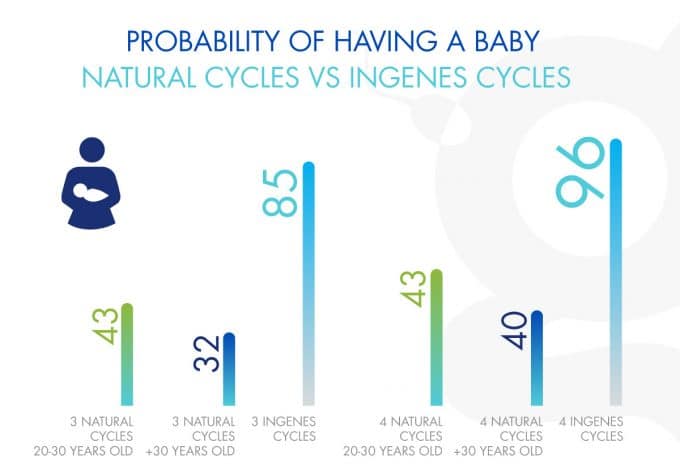 For this reason, we designed our Multicycle Programs: Bajando Estrellas del Cielo (BEC, in Mexico) and Your Star At Home (YSAH, in the States) with which we provide our patients with everything they need to achieve their dream:
2 to 4 IVF cycles.
National sperm and egg bank.
Assisted hatching (a method to promote embryo implantation).
Personalized monitoring by specialists with expertise in oocytes, uterus, embryos, sperm, etc.
Emotional, psychological, and nutritional support.
Moreover, we are so confident that together we can achieve your dream, that some of our programs and treatments include a money-back guarantee in case they are not successful.
Advanced IVF
If your cycle fails, review your options with your doctor
If you do not manage to get pregnant with a first IVF cycle, or if your pregnancy does not go to term, it is important that you can meet with your doctors to evaluate the alternatives they can use to improve your chances for a next IVF cycle.
Together, they will review why the cycle failed, what they can do differently for the next cycle, and whether they should add any other procedures to increase the success rate, such as Preimplantation Genetic Testing.
The number of cycles you will need to have to achieve your dream will depend on a number of factors, which your doctors should explain in detail, but as long as there is a chance of success it is reasonable to continue.
Having professional emotional support will boost your dream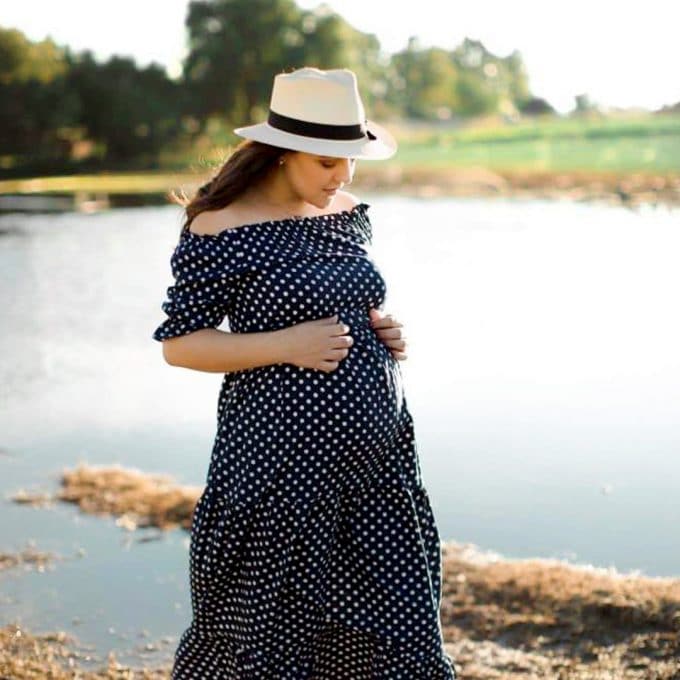 An assisted reproduction process such as IVF can challenge you in more ways than one, and it is normal that you may feel overwhelmed by this. The Pan American Health Organization (PAHO) insists that the mental and emotional health of women who are looking for a baby is just as important as their physical health, and not attending to it can mean all sorts of risks ranging from miscarriage to low birth weight.
Therefore, it is important that the institution you choose for your treatment provides you with emotional care from the beginning.
A patient who has had several failed IVF attempts will not have the same energy and motivation with which she started, and the psycho-emotional support she can receive from her partner (if she has one), family, friends, and professionals with experience in caring for people undergoing assisted reproduction treatment, will be fundamental for a positive outcome.
Know the possible side effects
One of the risks of IVF is ovarian hyperstimulation syndrome, a sometimes painful condition that can be caused by medications that stimulate excessive egg growth, causing ovarian enlargement, fluid retention and weight gain, among other problems.
Ask your doctor about possible side effects so that you can be much more confident that you are in the right place for your treatment, as these can be managed with appropriate medication management specific to you.
Other side effects of IVF and medications may include cysts, abdominal pain, skin reactions from the injections, mood swings, nausea, and headaches.
We know that the road to your baby may not be so easy, but becoming a mum is a dream that is completely worth it. Remember to approach reproductive specialists who will give you the utmost certainty and with whom you feel completely safe to achieve your dream and not only have your baby, but you can enjoy the full experience of becoming a mother to the fullest.